Tillamook County Harm Reduction & Syringe Services Program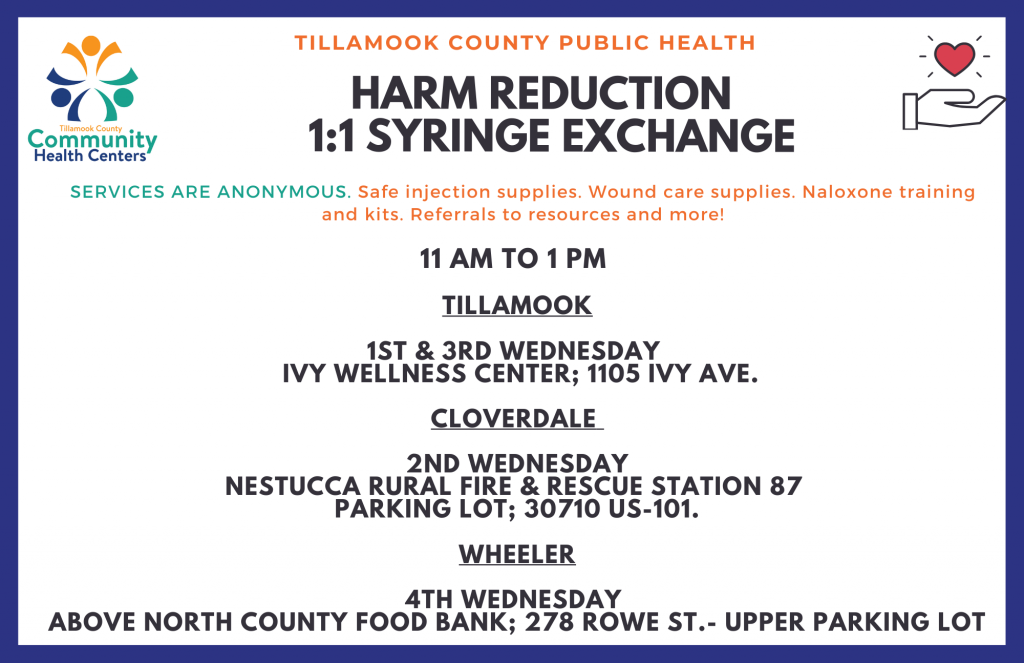 What does "Harm Reduction" mean?
Harm reduction is a set of practical strategies and ideas aimed at reducing negative consequences (i.e., negative health outcomes) associated with drug use.
What is the current philosophy of Harm Reduction?
Harm Reduction is a public health philosophy that seeks to empower individuals, remove barriers to accessing the support that they need, and supply pragmatic approaches to risk reduction in a non-judgmental/non-coercive way that is compassionate and accepting of any positive change.  Harm Reduction supports a wide spectrum of strategies from doing the behavior more safely, to limiting certain behaviors, to abstinence.
Public health principles of Harm Reduction include:
Meeting the client where they are, using programs designed for the community being served.
Accepts that drug use is part of our world and chooses to work to minimize its harmful effects on the people using drugs, rather than ignore or condemn those individuals.
Understands that drug use and behavior change are complex and multifaceted.
They include a continuum of behaviors from severe abuse to total abstinence.
Affirms that people who inject drugs are the primary agents responsible for reducing the harm from their drug use, and seeks to empower them to support each other and share information.
Recognizes that the realities of poverty, class, racism, social isolation, past trauma, sex-based discrimination and other social inequities affect both people's vulnerability to and capacity for dealing with drug-related harm.
Does not attempt to minimize or ignore the real or tragic harm and dangers associated with licit and illicit drug use.
What is Tillamook County Public Health's approach to Harm Reduction?
Currently, Tillamook County Public Health is conducting a Syringe Services Program that consists of distributing sterile needles on a one-for-one exchange basis, providing a sharps containers for safe disposal, and offering community resource information based upon need and recovery information when one is ready to take the step. Other harm reduction supplies such as alcohol swabs, condoms, lube are made available. Public Health also provides Naloxone training and product.
How effective is a Harm Reduction program in reducing disease?
Injecting drug users (IDU) now account for one in 10 new HIV infections world-wide. Yet it has been known since the early 1990s that HIV among IDU can be effectively, safely and cost-effectively controlled by the early and vigorous implementation of a comprehensive package of strategies known as 'harm reduction.'
The evidence is overwhelming that harm reduction approaches to HIV & Hepatitis C prevention among injecting drug users are effective, safe and cost-effective. The evidence of effectiveness is strongest for needle and syringe programs and opioid substitution treatment. There is no convincing evidence that needle and syringe programs increase injecting drug use. Countries that have provided extensive needle and syringe programs and opioid substitution treatment appear to have averted an epidemic, stabilized or substantially reduced the prevalence of HIV & Hepatitis C among injecting drug users.
What does Harm Reduction Program in Tillamook County do?
Tillamook County Public Health, with support from OHA, Clatsop County and Columbia Pacific Coordinate Care Organization, Tillamook County began a Harm Reduction & Syringe Services Program in Tillamook in April 2021.
Currently on the 1st and 3rd Wednesday of every month we are in Tillamook at the Ivy Avenue Wellness Center (1105 Ivy Ave) from 11am – 1pm. On the 4th Wednesday we are in Wheeler at 278 Rowe St, in the upper parking lot above the North County Food Bank.
Tillamook County Public Health staff in partnership with Tillamook Family Counseling Center Peer Support Specialists work to assist folks in exchanging used needles, for sterile needles, offer wound care supplies, prevention kits, Naloxone/ Narcan kits and training, resources and more.
Nearby Syringe Services Program Sites:
Columbia County
Every Tuesday in St. Helens, 1-3 p.m. at the CC Rider transit center at 1155 Deer Island Rd.
Clatsop County
Every Thursday in Seaside at the gravel lot across from Providence Seaside hospital from 11:30 a.m.-12:30 p.m., Warrenton at the Premarq Building parking lot (65 US-101, west side of building)  1:00-2:00 p.m., and Astoria at the end of 32nd Street behind Safeway 2:30-3:30 p.m.
Resources
For More Information Contact Us
Download the latest program flyer