Community Action for Tobacco Prevention
Community engagement is a vital part of successful tobacco prevention. Community attitudes, norms, and policies help shape the tobacco environment in our county, which affects everyone, especially impressionable youth and others that may be vulnerable to tobacco use or secondhand smoke and vapor. Engaging in tobacco prevention can help reduce the number of people that start smoking, vaping, or using other tobacco products, and it can help encourage those that currently use those products to quit.
Check out the list of ways that you can get involved with preventing tobacco use in your community below!
Want to help us make this page better? Click the button below to take a survey about what you learned and how we can improve!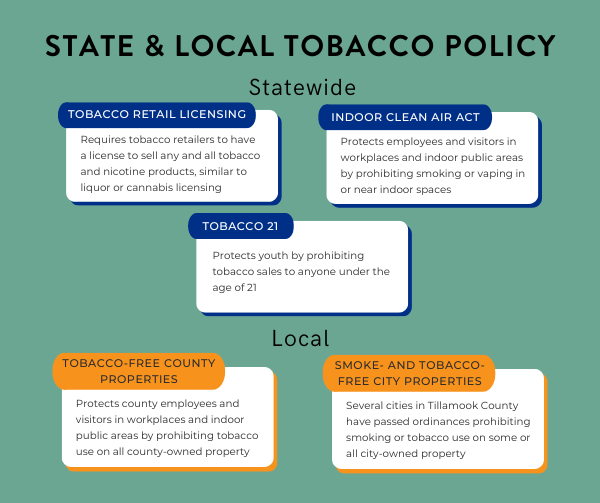 Vote
If you are eligible to vote in Oregon, registering to vote and participating in all elections, even at the local level, is one of the most effective ways to ensure your voice is heard.
If you are not yet registered to vote, you can do so online. U.S. citizens 16 years of age or older are able to register to vote. Once you have registered, you will start receiving ballots when you are eligible to vote, starting at age 18
Register to vote here: https://sos.oregon.gov/voting/Pages/registration.aspx?lang=en
If you aren't sure if you are registered to vote, or if you need to update the information on your voter registration, you can do so using the Oregon Secretary of State's My Vote tool.
https://sos.oregon.gov/voting/pages/myvote.aspx?lang=en
It is important to update your voter registration status if any of the following information has changed:
Your mailing address
Your residence address (even if you use a P.O. Box)
Your name
Your party affiliation
Educate yourself and others on tobacco risks and prevention
Learning about the negative impacts of smoking, vaping, or using other tobacco products can help you protect yourself and others from those risks. If you are a current or former tobacco user, it may motivate you to quit or stay quit, and for non-tobacco users, it can help prepare you for difficult conversations with loved ones about tobacco use. It also helps to be familiar with the wide range of free resources available to help someone quit tobacco – you don't have to do it alone!
Contact your elected officials
If you think tobacco prevention should be a priority, you can talk to your elected officials and tell them why. Elected officials decide which policies to enact, and if they know something is a priority in the community, they are much more likely to act.
Report violations of current tobacco laws
If you see a potential violation of a current tobacco law, you can report it to the authority in charge of enforcing that law. Some tobacco laws are complaint-driven, meaning enforcement action is only taken when someone reports a violation. Reporting also helps agencies better understand whether laws are effective.
If you aren't sure how to report a violation, or if you're unsure whether something is a violation, contact the Tillamook County TPEP coordinator at amcveety@co.tillamook.or.us or 503-842-3900 ext. 4010 for assistance.
Share cessation information at your business or event
If you own a business that has a bulletin board or shares printed resources, or if you are planning an event where resources are shared, consider including tobacco cessation materials. You can reach out to the Tillamook County TPEP coordinator to obtain digital copies of these materials: Amy.McVeety@tillamookcounty.gov or 503-842-3900 ext. 4010.
You can also download free digital materials and even request free prints from the FDA: https://digitalmedia.hhs.gov/tobacco/print_materials/search
Check out Smokefree Oregon for more ideas
Want more ways to get involved? Smokefree Oregon's Take Action page has more ideas for how you can prevent tobacco use in your community. They also have more information about the tactics used by the tobacco industry to get people to start and continue using tobacco.
Thank you for helping make our community tobacco-free! If you learned something from this page, or have ideas on how we can improve it, consider taking this survey to let us know!