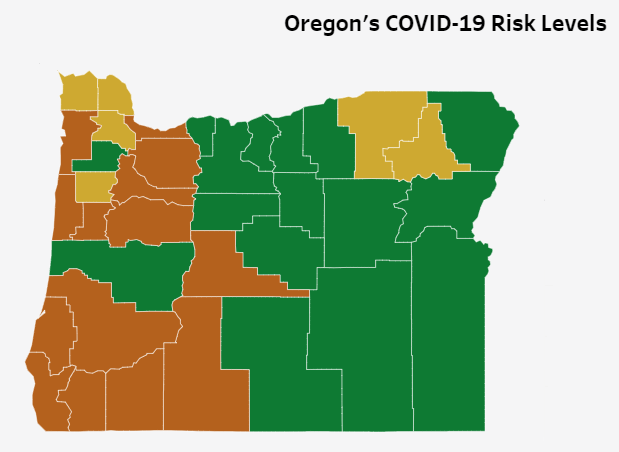 Current Status:
High Risk
---
Effective 04/09//21 – 04/22/21. Cases will be re-evaluated over the next two weeks and new status announced 04/20/21; change will take place 04/23/21
Risk Level Metrics: Schools and Counties data here
OHA Daily Case Report for Tillamook County:
3
---
new confirmed and presumptive cases on 04/08/2021
Oregon's Risk and Protection Framework:
Oregon has a framework to reduce transmission and protect Oregonians from COVID-19 until a vaccine can be widely distributed.
We  continue to build up testing capacity, investigate and contract trace cases, and provide support for those who need to isolate or quarantine to recover and protect others.
How it Works:
County Risk Levels are updated every two weeks by Oregon Health Authority in response to how COVID-19 is spreading in communities.
On Tuesday of Week One (called the Warning Week), data for the previous two weeks is published so counties can prepare for potential risk level changes the following week.
On Tuesday of Week Two (called the Movement Week), updated data is published and County Risk Levels are determined. Risk Levels take effect on Friday and remain in effect for the next two weeks while this process repeats.
Understanding the Risk Level Assignment
As we live with COVID-19 through the coming months, risk reduction measures are important to limit the spread of disease, reduce risk in communities more vulnerable to serious illness and death, and to help conserve hospital beds and staff capacity so that all Oregonians continue to have access to quality care.
Disease spread and percent positivity determine the risk level for activities allowed. Some of this data includes case rates for larger population counties or absolute cases for smaller population counties. Other metrics serve as additional data for context. Counties must remain in a risk level for at least two weeks before moving to a less restrictive phase, and must propose community mitigation measures to minimize risk based on disease spread. The Oregon Healthy Authority and the Governor's Office use this data to assign risk level, but counties may choose to remain in a more restrictive risk level for the safety of their community.
Indicators of COVID-19 Spread
OHA uses indicators of disease spread to determine which restrictive measures will reduce risk from COVID-19. The principles for reducing risk inform sector-specific guidance to protect Oregonians — including workers, customers, and others — in these sectors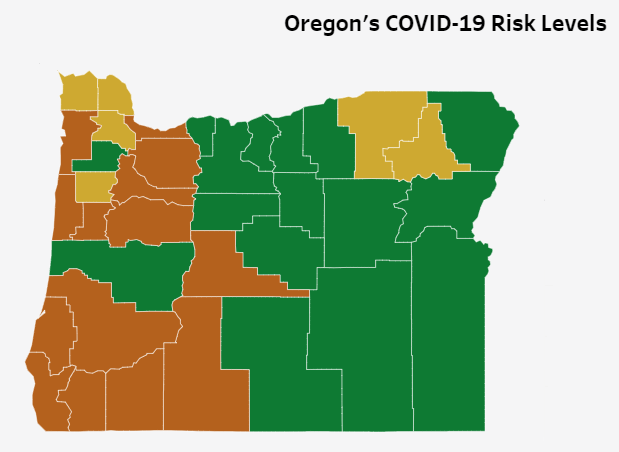 Estado actual:
Alto riesgo
---
Efectivo del 09/04/21 – 22/04/21. Los casos serán reevaluados durante las próximas dos semanas y se anunciará un nuevo estado el 20/04/2021; el cambio tendrá lugar el 23/04/2021.
Métricas de nivel de riesgo: lista de datos de escuelas y condados aquí
Informe de caso diario de la OHA para el condado de Tillamook:
3
---
nuevos casos confirmados y pesuntos el 08/04/2021
Ver informe completo aquí
(informe en inglés solo en este momento)
Marco de riesgo y protección de Oregón:
Oregon tiene un marco para reducir la transmisión y proteger a los habitantes de Oregon del COVID-19 hasta que una vacuna pueda distribuirse ampliamente.
Continuamos aumentando la capacidad de prueba, investigando y contratando casos de rastreo, y brindamos apoyo a aquellos que necesitan aislar o poner en cuarentena para recuperar y proteger a otros.
Cómo funciona:
Los niveles de riesgo del condado se actualizan cada dos semanas en respuesta a cómo se está propagando el COVID-19 en nuestras comunidades.
El martes de la Semana Uno (llamada Semana de Advertencia), se publican los datos de las dos semanas anteriores para que los condados puedan prepararse para posibles cambios en el nivel de riesgo la semana siguiente.
El martes de la semana dos (denominada Semana de movimiento), se publican datos actualizados y se determinan los niveles de riesgo del condado. Los niveles de riesgo entran en vigencia el viernes y permanecen vigentes durante las próximas dos semanas mientras se repite este proceso.
Entender el nivel de riesgo asignación
Mientras vivimos con COVID-19 durante los próximos meses, las medidas de reducción de riesgos son importantes para limitar la propagación de enfermedades, reducir el riesgo en comunidades más vulnerables a enfermedades graves y muerte, y para ayudar a conservar las camas de hospital y la capacidad del personal para que todos los habitantes de Oregon continúen. tener acceso a una atención de calidad.
La propagación de la enfermedad y el porcentaje de positividad determinan el nivel de riesgo de las actividades permitidas. Algunos de estos datos incluyen tasas de casos para condados de población más grande o casos absolutos para condados de población más pequeña. Otras métricas sirven como datos adicionales para el contexto. Los condados deben permanecer en un nivel de riesgo durante al menos dos semanas antes de pasar a una fase menos restrictiva, y deben proponer medidas comunitarias de mitigación para minimizar el riesgo basado en la propagación de enfermedades. La Autoridad Saludable de Oregón y la Oficina del Gobernador utilizan estos datos para asignar el nivel de riesgo, pero los condados pueden optar por permanecer en un nivel de riesgo más restrictivo para la seguridad de su comunidad.
Indicadores de propagación de COVID-19
La OHA utiliza indicadores de propagación de enfermedades para determinar qué medidas restrictivas reducirán el riesgo de COVID-19. Los principios para reducir el riesgo informan la orientación específica del sector para proteger a los habitantes de Oregón, incluidos los trabajadores, los clientes y otros, en estos sectores.
Content source: https://coronavirus.oregon.gov/Pages/living-with-covid-19.aspx